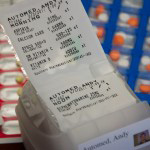 Meet with us one-on-one to discuss the packaging option that best fits your needs, your client's needs and your regulatory responsibilities.
At Southern Pharmaceutical, our goal is to provide the most advanced and convenient ways of administering and delivering medications to patients in assisted living and independent living facilities.  We offer an array of packaging options to meet your specific medication needs. Packaging options include compliance strip packaging, Medicine-On-Time and unit dose bubble packs.  Our Multi Dosed packaging can be provided in both monthly fill and short fill options for compliance strip, bubble packs or Medicine-On-Time.
We will work with you to find the dispensing system that works best for you and your clients; giving you a new level of convenience, flexibility and accuracy in medication dispensing and administration.