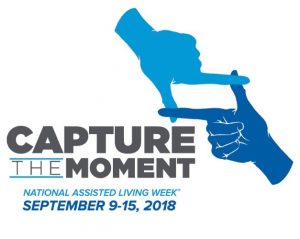 "Capture the Moment" is the theme of this year's National Assisted Living Week, Sept. 9 through the 15th. The annual observance celebrates assisted living residents and offers an opportunity for others to learn more about this sector of long-term care.
"We want this year's National Assisted Living Week to help overcome the stigma that older adults in assisted living communities — and other settings, for that matter — don't have a purpose in life anymore," NCAL Executive Director Scott Tittle said in a statement. "No matter your age, we should all be living life to its fullest. Assisted living caregivers help seniors realize this by supporting them with everyday tasks while maximizing their independence and honoring their individuality."
This year's theme aims to remind assisted living staff members that, often, the little, everyday interactions with residents can result in high-quality, person-centered care, NCAL said. The organization encourages assisted living communities across the country to organize activities and events that help residents celebrate the past while also enjoying the present.
We at Guardian Pharmacy of Birmingham hope the week is full of fun and reflective activities for the Assisted Living communities across Alabama. For more information on the services provided by Guardian Pharmacy of Birmingham, please call Tess Davis at 205-223-3031.