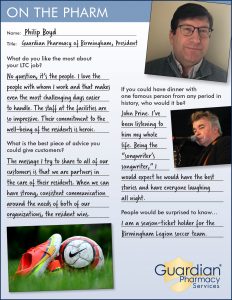 Your pharmacy culture is…
…defined through a process that included the input of all employees. Rather than let the culture just happen, hoping for the best, we discussed what we want to be as an organization. We wrote down characteristics we want to embrace as a staff and they include traits such as positive, teamwork, caring approach, hardworking, and client first. By defining and documenting this culture, we are able to hold ourselves and each other accountable to protecting our company culture through our daily actions.
What do you like the most about your LTC job?
No question, it's the people. I love the people with whom I work and that makes even the most challenging days easier to handle. Their hard work is so admirable and motivating. The staff at the facilities are so impressive. Their commitment to the well-being of the residents is heroic. The residents and their families are so enjoyable to meet. Being able to help them is what it is all about.
What is the best piece of advice you could give customers?
The message I try to share to all of our customers is that we are partners in the care of their residents. When we can have strong, consistent communication around the needs of both of our organizations, the resident wins. We have shared goals to have everything the resident needs, when they need it, and this takes both of our teams working together to have the highest success.
If you aren't at work, you are…
I love to spend as much time as I can with my family – my wife, Catherine, and three children Philip (23), Isabel (21) and Campbell (17), probably more than they do. I also enjoy playing golf, going to see live music, reading, and watching sports.
If you could have dinner with one famous person from any period in history, who would it be?
John Prine. I have been listening to John Prine my whole life. Being the "songwriter's songwriter," I would expect he would have the best stories and have everyone laughing all night.
People would be surprised to know…
I am a season-ticket holder for the Birmingham Legion soccer team.